Money is not the main reason." Volleyball player who survived the obstruction in Turkey comes to Russia
Any foreigner who is now traveling to Russia is already a bit of a mystery. Yes, you will say that money decides, but even with good numbers in the offer, you still have to decide to live in a country about which a lot of negativity is talked about in the news in the West.
The main transfer in this Russian volleyball off-season is the arrival of one of the best diagonal players in the world, Turkish Ebrar Karakurt, to Lokomotiv Kaliningrad. At 23, she has already collected the Champions League title, the silver and bronze of the Nations League and strong statistics for 40% of the implementation of attacks. She spent the last two seasons in the Italian "Igor Gorgonzola" (not to be confused with passion fruit), where she won the bronze of the championship and the silver of the cup.
But Karakurt is a well-known name in world volleyball also because a couple of years ago she was criticized by the conservative part of Turkish society after a photo with her girlfriend. She had to endure persecution, but the federation and the national team supported the outrageous volleyball player, and she continues to help Turkey take the lead in the current draw of the League of Nations.
"SE" asked Karakurt about the attitude towards the haters and the motives for moving to Kaliningrad during the Olympic season.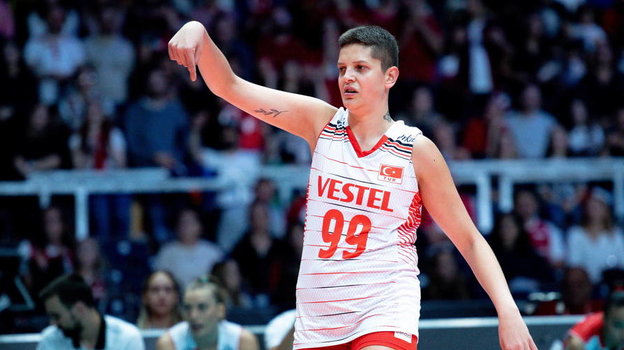 Photo by Global Look Press
Attendance is also an argument to come
– Ebrar, you are now playing in the League of Nations, Turkey has not won big titles for a long time. What are you expecting this time?
– Now I am very pleased with our performance in this League of Nations. Indeed, over the past few years, we have reached the Final Four every time, but something was missing. This year, I believe we have a chance to win gold. We have enough strength and power to win the entire tournament.
Why did you choose Russia? After all, you will not have European cups. Is it primarily financial motivation?
— I want to get the experience of playing in as many leagues, countries as possible, I'm interested. It doesn't matter if we play in European competitions or not. Of course money is important because volleyball is our job. But this is not the main reason why I decided to play in Kaliningrad. The main reason is the desire to gain international experience, and Kaliningrad is a great option.
— What is your opinion about Russian volleyball?
– First of all, I think everyone knows that Russia is one of the leading countries in world volleyball and remains so. And I know that Kaliningrad Lokomotiv every time fights for the title of champion in any tournament. In recent years, when I came to Kaliningrad for the Champions League games, I saw an amazing atmosphere. So high attendance is also an argument to come (laughs). It makes you feel adrenaline, excitement. I love playing in front of a large audience.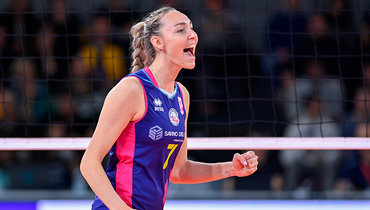 Italian Pietrini decided to play for Kazan. The titled beauty volleyball player was not afraid of criticism for moving to Russia
After all, when making a decision, I talked with foreign volleyball players who played in Lokomotiv …
– Did you make any inquiries?
– Yes. I was told that according to the conditions, this is the level of the best clubs in Europe. And from the point of view of infrastructure, some working moments, and in terms of the atmosphere, the attitude of the fans.
– You decided to go abroad for the first time last season. What is it like to play as a foreign player abroad? When the locals might want to see their teammates.
– In general, it is difficult, yes, there are issues with adaptation, it is not so simple – I took it and moved. In my first season at Novara, I felt it. But after a while you get used to it. I like this kind of challenge and getting out of my comfort zone. The hardest part is getting used to another language and being away from my family and the people I love. But I do not see any problems in connection with the move to Kaliningrad.
What is your purpose of moving?
— I come to Lokomotiv Kaliningrad to win the championship gold medal and help the team with my energy as much as possible.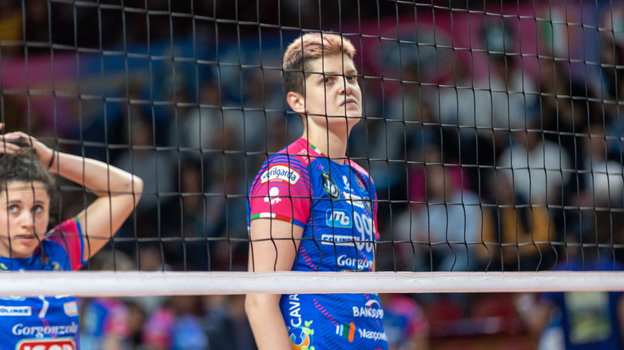 Photo by Global Look Press
I don't play in Turkey not because of criticism
– You have an unusual image. Is this self-expression, rebellion?
"In general, I have a rather pleasant personality. Well, I think so (laughs). Hair describes my personality. Now I prefer to play with pink. But be prepared for any color! For example, green…
– You have been criticized more than once at home, you have enough haters, I think. How do you look at it?
"Usually I don't care what people think of me. They can love me or hate me, it doesn't matter. I just don't listen to what people say about me. Well, if some kind of criticism reaches me, it only motivates me to play better.
– But it's not because of them that you decided to leave for other championships? Will it be hard for you to play in Turkey now or am I exaggerating?
I love my country so much! Of course, there are people who criticize me. But there are more people who support me. Knowing that I have a huge support in my country gives me more energy than anything else. No, the reason that I don't play in Turkey is not criticism, not at all. Moreover, I am one hundred percent sure that someday in the future I will play in my country again.