We flew into space for Salamych! Igor looks like Lev Ivanovich
We remember the great game of the 2018 World Cup.
July 1, 2018. Moscow. Stadium "Luzhniki". Match Russia – Spain. Penalty shootout. We are leading – 4:3 (Akinfeev has already coped with Koke's blow), plus there is one shot in reserve. Iago Aspas approaches the point . The Spanish striker hits the center, Akinfeev jumps into the right corner, but still manages to hit the ball with his left foot. The Russian borax is in the quarterfinals of the home world championship! History has been written.
Spain – Russia – 1:1 a.i. (1:1, 0:0, 0:0). Penalties – 3:4
Goals: Ignashevich, 12 – own goal (1:0). Dzyuba, 41 – from the penalty spot (1:1).
Penalty shootout: Iniesta – 1:0. Smolov – 1:1. Piqué – 2:1. Ignashevich – 2:2. Koke – 2:2 (goalkeeper). Golovin – 2:3. Sergio Ramos – 3:3. Cheryshev – 3:4. Aspas — 3:4 (goalkeeper).
Spain: de Gea, Nacho (Carvajal 70), Pique, Sergio Ramos, Jordi Alba, Koke, Busquets, Silva (Iniesta 67), Isco, Asensio (Rodrigo 104), Diego Costa (Aspas 80).
Russia: Akinfeev, Kudryashov, Kutepov, Ignashevich, Mario Fernandez, Zobnin, Kuzyaev (Erokhin, 97), Samedov (Cheryshev, 61), Golovin, Zhirkov (Granat, 46), Dziuba (Smolov, 65).
Warnings: Piqué, 40. Kutepov, 54. Zobnin, 71.
Referee: Kuipers. van Roekel, Seinstra (all Holland).
VAR: Makkeli (Holland). Gil (Poland), Borsh, Zweier (all Germany).
July 1. Moscow. Stadium "Luzhniki". 78,011 spectators.
Cherchesov: Spaniards lost an hour of playing time
Stanislav Cherchesov decided to surprise the Spaniards by changing the usual scheme before the match. The Russian national team switched to a game of three central defenders – Kudryashov was added to the pair of Ignashevich – Kutepov. The right edge was given to Mario Fernandez, the left to Zhirkov. But Denis Cheryshev , who scored three goals in the group stage, was unexpectedly left on the bench. Samedov was moved closer to the center, and Zobnin's company in the support zone was not Gazinsky, but Kuzyaev.
"Ten years ago (in 2008 – Note "SE") the Spaniards beat us at the European Championships twice – 4:1 and 3:0. Then our team got involved in football with them on a collision course, – Cherchesov noted at the post-match press conference, explaining his decision according to the scheme. – But when they know how to do certain things, to be honest, they are better than us, why, as they say, run into trouble? Today we decided to play "second number", we only planned that the way out of the defense would be better. If we had played differently, we would have had much less chances. If we played open football or four defenders, our defense would be opened a little more often. Perhaps we would have created more at other people's gates, but I think it would have turned into a defeat.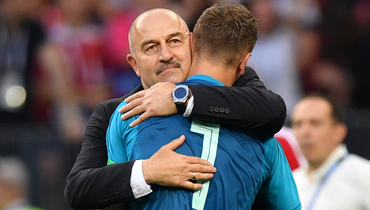 "Against Spain everything went according to plan. According to our plan." Cherchesov recalls Russia's historic World Cup victory
And here is an excerpt from his interview with the German edition of Spiegel (published in Ivan Zhidkov's book "Stani, Stas, Salamych"):
"Against Spain, we played with five defenders, we didn't field Cheryshev from the first minutes. The opponent proceeded from the fact that Denis is one of our best players and will definitely get into the starting lineup. Therefore, the Spaniards put Nacho, a more defensive player, he goes on the attack less. As a result, it turned out that Spain lost almost an hour of playing time.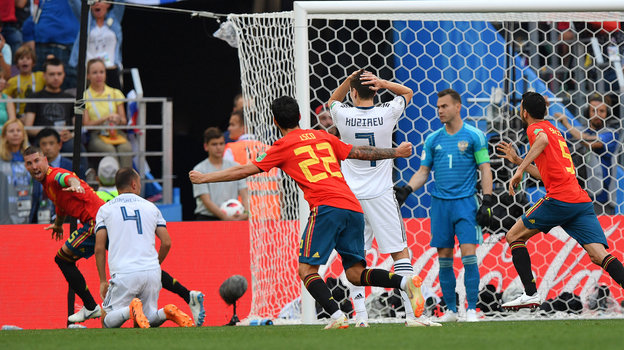 The joy of the players of the Spanish national team after Sergei Ignashevich's own goal.
Photo Alexander Fedorov, "SE"
Ignashevich: "Only in the 90th minute did I realize that I scored with my…"
The legendary victory was not easy for the Russian team, and the match was clearly not in favor of our team from the very beginning. The Spaniards took the lead already in the 12th minute – Marco Asensio completed a pass to the far post, where in a duel with the participation of Ignashevich and Ramos the ball hit the heel of the CSKA defender and flew into Akinfeev's goal – 0:1 …
"The worst thing that could happen happened right away. We were afraid of this, we really hoped that at least until the break, Russia would hold out in order to stabilize the initially unequal balance of power, but no. Everything went according to a completely different scenario. How insulting it was after this cut – after all, there was no overwhelming advantage of Spain, we were not taken at our own penalty area, and in general these Spaniards do not look like those who smashed us 10 years ago, "wrote SE columnist Dmitry Zelenov.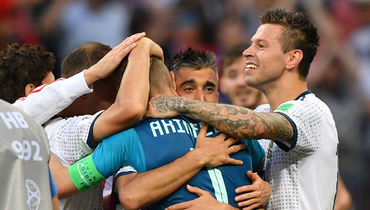 Heroes! Russia is in the quarterfinals of the 2018 World Cup!!!
It is curious that Ignashevich himself realized that he put his foot on the opponent's goal only after the end of regular time of the match!
"At that moment, I didn't feel contact with the ball, so I didn't even realize that I had scored an own goal. Moreover, when I saw that Ramos ran to rejoice, I thought that he somehow played ahead of the curve and outwitted me. In the future, the match developed in such a way that I did not even have time to raise my head and look at the scoreboard. And only when regular time ended and we sat in the central circle, I saw the names of Dziuba and Ignashevich. At first I did not even understand how it happened. But maybe it's for the best that I didn't know about own goal until recently. It would be more difficult to play with negative thoughts, "Ignashevich said in an interview with the RFU website in 2020.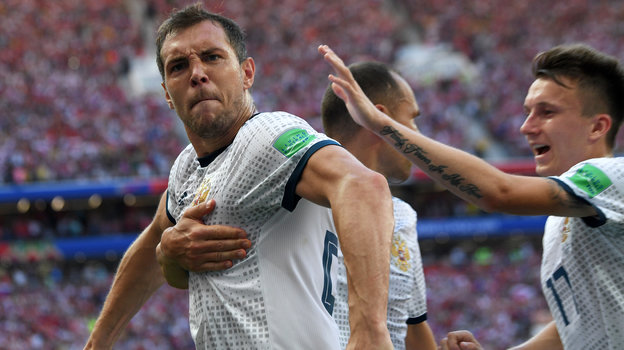 Artem Dziuba celebrating a goal against the Spaniards.
Photo Alexander Fedorov, "SE"
Dziuba: "It was scary. I thought: if I miss, they will eat everything.
Fortunately, the missed goal did not unsettle the Russian team. Our players climbed forward, albeit without any special tricks – Dziuba won the top, threw off on Golovin , and he connected Zobnin . This trinity created the first moment at the gate of David De Gea: Golovin's tight shot almost ended in a goal.
The perseverance of Cherchesov's players was rewarded in the 40th minute. It was not without luck – after Samedov's submission from the standard, Dziuba hit his head, and the ball hit the hand put up by Gerard Pique. Penalty! Dziuba confidently outplayed De Gea – 1:1.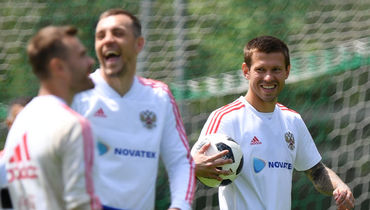 Akinfeev and Dziuba are best friends!
– When you took the penalty in the first half, there was a pause. Was it initially clear that you would approach the ball? Artyom was asked after the game.
– Several people told me: go, beat! I looked, looked around, I think, why not. It was scary, to be honest – the whole world is watching. I thought if I missed, everyone would eat it. For so many years, the football god has turned his back on us, and today…
Zhirkov: "Someone called our game anti-football, but with the Spaniards it's impossible in a different way"
During the break, Cherchesov went to a forced substitution – Zhirkov could not continue the game and gave way to Grenade on the field.
"I'm afraid for Zhirkov it was the last match in the tournament. If only we prepare it for the final. He entered the field with a sore leg, survived the time, but then the injury made itself felt, "the head coach of our team stated at a press conference.
"Against Spain, one might say, he finally finished off Achilles," Yuri sighed. – I was hoping that I could play a full match, although I had already missed a lot of training. Even the pre-match was not one hundred percent. But he did what he could."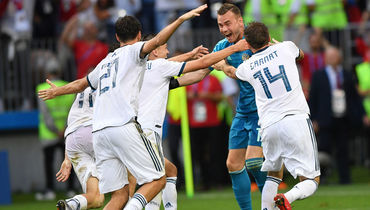 Russia defeated Spain. What was it?
"It was impossible to lose concentration with the Spaniards for a second – it would have ended badly right there," Zhirkov later analyzed the match. – Someone called our game in that match anti-football, but it is impossible to play open football with Spain! We experienced it ourselves in 2008, when we tried to play attacking football with them twice and suffered two major defeats."
In the second half, the Russians had a hard time. Most of the time, you just had to fight back, taking off the top in your own box and sometimes playing just to take it out.
"It was clear that we would have to defend a lot. Spain has a big ball possession advantage against all opponents. The coach said: "You have to be patient." Spain is a fantastic team. It was a very tough match. Spain have phenomenal control of the ball. Isco is a great player," Samedov emphasized after the final whistle.
"Spain has a higher percentage of possession with any opponent. Waiting for their chance. The most important thing is that we did not give up after the missed ball and showed character by equalizing the score. Although I personally ran out of strength in the middle of the second half, I played on the moral and strong-willed! — said Daler Kuzyaev.
Hierro: "We trained so hard that we just couldn't stand it"
At the 65th minute, Cherchesov, unexpectedly for many, withdrew Dziuba from the game, throwing Fedor Smolov into battle.
Was the replacement of Dzyuba purely tactical in nature? – a question to Stanislav Salamovich at a press conference.
– That's what we planned. When in the second half the central defenders of the Spaniards were already playing almost at our penalty area, which was predicted, we wanted a fast center forward to appear. But the opponents were so competent in possession of the ball that we did not succeed. Perhaps five or ten minutes Dziuba could still play. But I always prefer the principle: "Better five minutes early than a second late."
"At the top, Dzyuba, as in any match at this tournament, reigned supreme. And clung to all the balls. When Smolov comes out, he will work out very well in defense on the defensive midfielder (remember, Cherchesov spoke on this topic even after the test match with Turkey, explaining what they talked about with the forward several times during the match?), cutting off Busquets's oxygen. But throwing the ball forward will stop working at all, because Smolov will not have enough strength and dimensions for this, "wrote Igor Rabiner, a columnist for SE.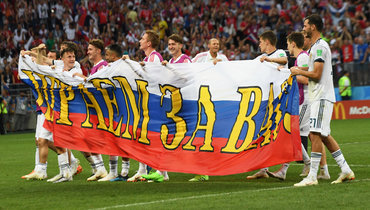 God's foot, Hiddink's parting words and jubilant Russia. Four years of legendary victory over Spain
Spaniards coach Fernando Hierro immediately released Iniesta in the hope that the great midfielder would still be able to crack the Russian defense with his non-standard moves. It didn't work out. In the second half, the Spaniards pressed, but did not create truly dangerous moments.
"We knew that the match would be difficult, but we scored a goal and took the lead. Then came the stage when they scored against us. From the standards, Russia plays well, as well as in the air. I don't blame anyone on the team. 15 players gave their all. But we also have weaknesses. We trained in such a way that we simply could not stand it. We had more possession of the ball, more often reached the penalty area. Those who know football understand that it is necessary to be effective in it, "admitted Hierro.
In extra time, the Spaniards still brought one of their attack to the specifics. Rodrigo took advantage of a rare mistake in our defense, burst into the penalty area and struck a tight shot from seven meters – Akinfeev rescued! The stands exhaled – the match went to a penalty shootout.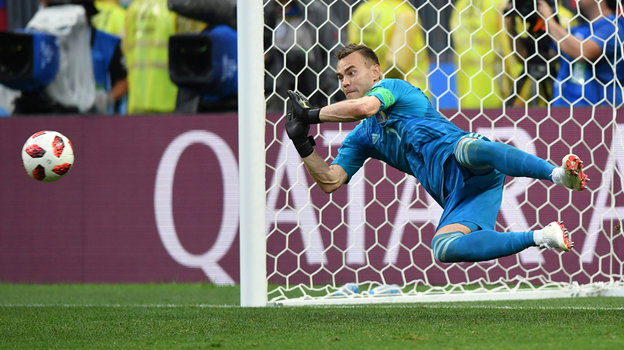 Photo Alexander Fedorov, "SE"
Valentina Yashina: "It seems that she never worried about Leo as much as she did about Akinfeev"
Save Akinfeeva after hitting Aspas from the "point", of course, will be included in the golden collection of our football. But Igor himself does not particularly like to expand on this topic.
– Hundreds of memes have already been made about your salvation, they talk about the "leg of God." Seen? – asked our goalkeeper a day after reaching the quarterfinals.
Please, let's put all this aside. And we will think about the next game against Croatia.
But how is this technically possible?
"Just lucky is all.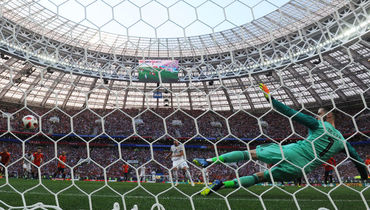 Russia vs Spain: Goal Analysis
Akinfeev overnight became a hero of the nation – everyone instantly forgot about his mistakes at the World Cup in Brazil and in the Confederations Cup.
– I am absolutely delighted with our goalkeeper! She was all on her nerves, she was sick, – the widow of Lev Ivanovich Yashina Valentina Timofeevna did not hide her emotions in a conversation with a SE correspondent. – It seems to me that I have never even been so worried about Lev as I was about Igor.
– Can we say that Akinfeev is our second goalkeeper after Lev Yashin?
"I was just thinking about this today. They are alike. Moreover, Igor plays without any show, acrobatic numbers. He just plays for the result. He does not show himself, but tries to benefit the team, to help out. Thinking about it first. Igor, like Lev, never does tricks. Plays very well. Well done, smart guy. And overall a nice guy. When he left the field, I admired him.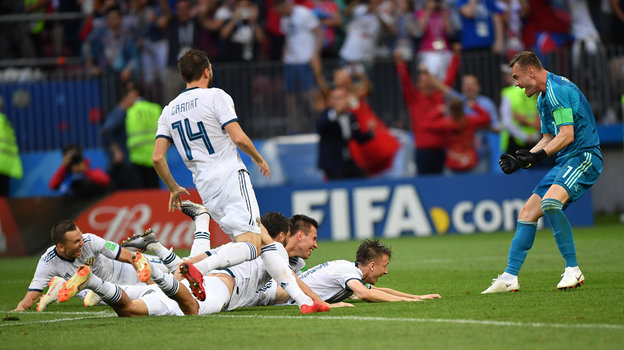 The players of the Russian national team celebrate the victory over Spain.
Photo Alexander Fedorov, "SE"
Akinfeev: "The leg of God? Some bullshit"
It is clear that later journalists asked Akinfeev more than once about the same save and wondered how he could beat off Aspas' blow.
"There are no secrets. I always say that everything happens by chance," Igor said in an interview with the RFU website in August 2022. – As for the penalty at the World Cup, there was generally a tangle of accidents. Together with goalkeeping coach Gintaras Stauche, they noticed that Aspas was always hitting in one direction. I jumped there, and he hit the center. If you look from behind the gate, he hit a little closer to my leg. Accident? Yes. The leg remained – that's it, we went further.